Junior, the Mean Widdle Kid



Appeared

Radio 1941
TV 1951 as Little Richard jokes
1941/11 - Introduced on the radio show. Neighbors: Mr. Frank (1946)
3 striped member of the Skunk Patrol.
1951/02/18 - "I Caught the Devil" Junior manages to trap the Devil. Now all the evil, corruption and meanest in the world is gone.
1951/04/29 - "The Liberty Bell" Junior tells the story of "The Bell Collector". An old forgotten bell that had a good life ringing out warning to worship. He reminds the public about freedom.
1951/12/19 - "The Little Christmas Tree"
"I Dood It"
Edit
1936 - [Stage] Started the phrase while performing in Montreal. [1]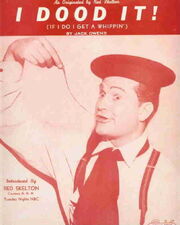 1943/09 - [Film] I Dood It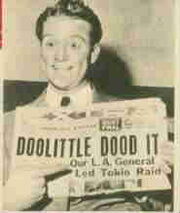 41-17766 I Dood It exploded in midair 18/12/42.
[2]
319th BG, 439th BS. Martin B-26B-MA Marauder
41-30376 B-25D-1 "We Dood It" Serial Number 41-30376 Tail Code V [http://www.pacificwrecks.com [http://www.pacificwrecks.com www.pacificwrecks.com]] 1941 - 41-31757 PN-G "We Dood It" B-26B-20-MA. 322BG/449thBS. 114 missions
42-31410 I Dood It, 336 G, B-17G 1942 - 398th BG, 601st 42-102596 30-N DOODIT
42-5444 B-17F We Dood It 22 Jun 43 359th BS, To 384th BG on 11 Aug 43. 545th BS 384th BG Boeing B-17F Flying Fortress 42-5444 JD*N 'We Dood It' 30-01-44
42-73XXX LOOK! FELLA'S ME DOOD IT THE CONOCO KID B - 24 J - - CO 10 7 436
42-97323 Begin the Beguine - She Dood It. 306th Bomb Group. Later with the 381th BG at Ridgewell. 306/368/BO-M, 381/534/GD-?, 11/06/1945 flown to Kingman, AZ Dec 6, 1945. Scrapped 1946-47.
1943/Fall - Red Skelton gave a Douglas A-20 bomber to Russia. 44-8155 Lockheed/Vega B-17G-50-VE Fortress (305th BG, 365th BS, "Dickie Dood-it") Del Dallas 26/6/44,Langley 27/7/44, Dow Fd 23/8/44, ass 525BS/379BG (FR-Z) Kimbolton 16/9/44;Sal 9AF Germany 31/5/46 ? - 339041 B17G. 570 Squad. She Dood It.

[http://www.trenchjacket.com/yankee-dood-it [http://www.trenchjacket.com/yankee-dood-it www.trenchjacket.com/yankee-dood-it]]
Cartoons
Edit
↑ "Webster or Not, Skelton 'Dood It' With Little Idiom" Milwaukee Journal, 10/02/1943