Red Skelton's Funny Faces were a part of HBO's Standing Room Only TV specials.
1980 Red Skelton's Funny Faces
Edit
Cabala Communications [1]Markowitz Television, HBO

Opening: Talks about coming back to television; dressing rooms; looking good at old age; State Fair health; meeting people; Seagulls; type of mime.
Mimes: New Yorker on a Horse; Drive-In; Dunking Donuts; Greek restaurant waiter; Birth, Life and Death of a Flower in a Storm.
Jokes: Desires at Midnight. Clem (Hunting dogs); Junior (Milkman; Dust); Funeral; Airplane fuel;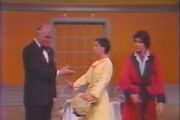 Shields & Yarnell
: The Clinkers at Breakfast
Mummenschanz: Mouth with a tongue; Tube playing with a balloon.
Yacov Noy: Sculptor; Two Jewish Dancers
Opening mime: Keith Berger
Producer and Staged: Riff Markowitz; Co-producer: Lewis Chesler; Director: Trevor Evans; Associate Producer: Cathleen Fizpatrick; Musical Director: Ian Bernard; Musical Director for Mr. Skelton: Jerry Kaye; Musical Director for Shields & Yarnell: Norman Mamey; Art Director: Tom Meleck; Production Coordinator: Andrew Linsky. Taped on location: The La Mirada Civic Theatre (Manging Director: Tom Mitze)
↑

Edited Master, Pacific Video Post, 03/13/1980
Ad blocker interference detected!
Wikia is a free-to-use site that makes money from advertising. We have a modified experience for viewers using ad blockers

Wikia is not accessible if you've made further modifications. Remove the custom ad blocker rule(s) and the page will load as expected.