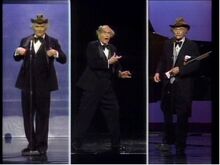 1984/04/06 HBO
Jokes: Age; Wife; Dog; Seagulls; Nurses; Hair; Sneezes; Helen Hunt; Dining; Orchestra; Little boy's mother having a baby;
Clem: The Irish Tenor
Mime: Putting on a girdle; Little Old Man teaching baseball; Lady driving a car; Veterinarian giving a Whale a flu shot; New born baby.
Note: Recorded at Hamilton Place, Hamilton, Ontario, Canada.
Video: The Farewell Specials
Ad blocker interference detected!
Wikia is a free-to-use site that makes money from advertising. We have a modified experience for viewers using ad blockers

Wikia is not accessible if you've made further modifications. Remove the custom ad blocker rule(s) and the page will load as expected.