1936 - [Stage] Started the phrase while performing in Montreal. [1]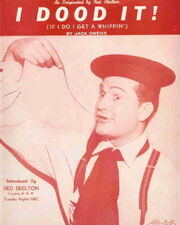 1943/09 - [Film] I Dood It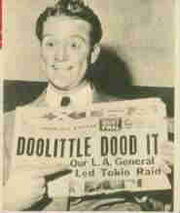 41-17766 I Dood It exploded in midair 18/12/42.
[2]
319th BG, 439th BS. Martin B-26B-MA Marauder
41-30376 B-25D-1 "We Dood It" Serial Number 41-30376 Tail Code V www.pacificwrecks.com 1941 - 41-31757 PN-G "We Dood It" B-26B-20-MA. 322BG/449thBS. 114 missions
42-31410 I Dood It, 336 G, B-17G 1942 - 398th BG, 601st 42-102596 30-N DOODIT
42-5444 B-17F We Dood It 22 Jun 43 359th BS, To 384th BG on 11 Aug 43. 545th BS 384th BG Boeing B-17F Flying Fortress 42-5444 JD*N 'We Dood It' 30-01-44
42-73XXX LOOK! FELLA'S ME DOOD IT THE CONOCO KID B - 24 J - - CO 10 7 436
42-97323 Begin the Beguine - She Dood It. 306th Bomb Group. Later with the 381th BG at Ridgewell. 306/368/BO-M, 381/534/GD-?, 11/06/1945
flown to Kingman, AZ Dec 6, 1945. Scrapped 1946-47.
1943/Fall - Red Skelton gave a Douglas A-20 bomber to Russia.
44-8155 Lockheed/Vega B-17G-50-VE Fortress (305th BG, 365th BS, "Dickie Dood-it") Del Dallas 26/6/44,Langley 27/7/44, Dow Fd 23/8/44, ass 525BS/379BG (FR-Z) Kimbolton 16/9/44;Sal 9AF Germany 31/5/46
? - 339041 B17G. 570 Squad. She Dood It.

www.trenchjacket.com/yankee-dood-it
↑

"Webster or Not, Skelton 'Dood It' With Little Idiom" Milwaukee Journal, 10/02/1943
Ad blocker interference detected!
Wikia is a free-to-use site that makes money from advertising. We have a modified experience for viewers using ad blockers

Wikia is not accessible if you've made further modifications. Remove the custom ad blocker rule(s) and the page will load as expected.