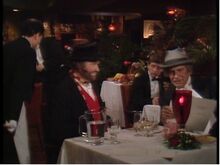 1981/12/13 HBO Standing Room Only
Song: "There is nothing worst than loneliness at Christmas time". "It's Christmas each day of the year". "I Believe".
Freddie look for the Professor for a Christmas dinner.
Skit: Telephone booth. Christmas tree salesman.
Mime: Sewing a button.
Cast: Red Skelton - Freddie the Freeloader. Vincent Price - Professor Humperdo. Imogene Coco - Molly
Video: The Farewell Specials
Ad blocker interference detected!
Wikia is a free-to-use site that makes money from advertising. We have a modified experience for viewers using ad blockers

Wikia is not accessible if you've made further modifications. Remove the custom ad blocker rule(s) and the page will load as expected.