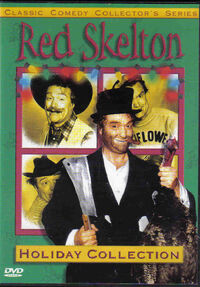 2000 (DVD) Brentwood Home Video #60993-9
The Cop and the Anthem [1]
Thanksgiving [2]
The Red Skelton Story
Producer: Bud Brutsman. Director: John Willians. Editor: Jonathon Case. Script: John Williams, Geoff Chadwick. Additional Research: Kent Hagen. Narration: Leonard Kildare. (c) 1998, D&J Corp.
---
Ad blocker interference detected!
Wikia is a free-to-use site that makes money from advertising. We have a modified experience for viewers using ad blockers

Wikia is not accessible if you've made further modifications. Remove the custom ad blocker rule(s) and the page will load as expected.