02/12 - Appearing at Mimie Eisenhower's birthday in November 1954.
03/19 - Article on dancer Jo Ann Dean.
07/02 - Shaving photos. [1]
07/21 - "What Every Comic's Wife Should Know" [2]
Photos of Red Skelton with RKO "Public Pigeon No. 1" co-star, Janet Blair.
01/24 - "What Makes a Clown?"
04/04 - "Raiding the Refrigerator" Photo of Red Skelton in Danny Thomas kitchen on Desilu's studio.
06/20 - "The Art of Stealing Scenes" Photo of Nanette Fabray with Red Skelton.
12/12 - "The Wizard of Oz" Photo with daughter Valentina hosting the showing of the film.
1960-02-20
Edit
"It Hasn't All Been Laughs" by Dan Jenkins.

In dressing room at the rear of studio 31 at CBS Television City. 6ft 2in, 193 pounds. Red talks about: Hubbell Robinson (former CBS executive VP in charge of network programs. Now producer of "Startime" on NBC.). Barber. Art Linkletter Olympics special. Money. Nightclubs. Home bought from Noah Dietrich in 1951. New business manager, Chuch Luftig. Mobile color tape units. Going to Japan to film "The Noodle Man" and "The Umbrella Man". Telephones.  
- 
10/14/1961
Edit
by Robert de Roos
Note: First of two parts.
(Second part 10/21/1961)
04/20/1963
Edit
"The Weekly Ordeal of Red Skelton" by Dwight Whitney
- 04/27/1963 "The Show Takes Shape"
10/16/1965
Edit
- [Print] TV Guide "Portrait of a Clown" by Ronald Searle
Article about artist meeting with Skelton in CBS dressing room.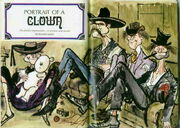 ↑

"How Are You Fixed for Styptics?" TVG 1955/04/02

↑

TV Guide, captions by Red Himself
Ad blocker interference detected!
Wikia is a free-to-use site that makes money from advertising. We have a modified experience for viewers using ad blockers

Wikia is not accessible if you've made further modifications. Remove the custom ad blocker rule(s) and the page will load as expected.