1955/12/06
Christmas episode.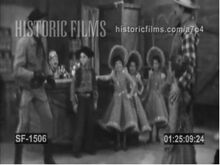 Guest Star: Bill Williams (The Adventures of Kit Carson (1951-1955))
Opening: Shopping. Christmas trees. Leopard sees a physicist.
Plot: Red Skelton gets Kit Carson (Bill Williams) to perform at a Boys Club with Deadeye.
Cast: Dave O'Brien; Jan Arvan; Margaret Brayton; Anna Marie Nanasi; Louis Lettieri; Stephen Wootton; Rudy Lee; Terry Rangno
Note/Video: Historic Films .
Ad blocker interference detected!
Wikia is a free-to-use site that makes money from advertising. We have a modified experience for viewers using ad blockers

Wikia is not accessible if you've made further modifications. Remove the custom ad blocker rule(s) and the page will load as expected.