02/28/1956 - [TV ep. 05.23] Cookie and Snorkel's Bundle of Joy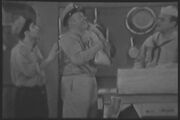 Guest Star: Alan Hale Jr.
Plot Synopsis
by Hal Erickson
In "Cookie in Korea," Red appears as a dimwitted sailor named Cookie. Returning from duty in Korea, Cookie finds he has taken along a "souvenir"-a cute little orphan. Now he must figure out a way to smuggle the kid into America without arousing the suspicions of superior officer Muldoon (Alan Hale Jr.) Singer Connie Haines also appears in this full-color broadcast from February 28, 1956.--
Cast: Jameel Farah - Snorkel, James Burke, Olan Soule, June Foray - Baby cry, Jeanne Williams, Marshall Lyou - Korean orphan
Note: Cookie (1st appearance). Characters from "The Mighty O" created by Bill Brennan.
Jamie Farr & Red Skelton, Timeless #66724
Ad blocker interference detected!
Wikia is a free-to-use site that makes money from advertising. We have a modified experience for viewers using ad blockers

Wikia is not accessible if you've made further modifications. Remove the custom ad blocker rule(s) and the page will load as expected.