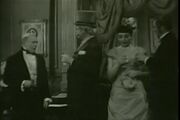 02/26/1957 - [TV ep. 06.20] "Showboat" San Fernando GS: Charles Ruggles, Marie Windsor

Opening: South
Mime: Interlocutor
San Fernando's daughter falls in love with a son of plantation owner.
TV ep. 06.19 > < TV ep. 06.21 Clem's Oil
↑

(DVD) Oil/Showboat (box set DVD9 9182), Madacy DVD9 9182-2

↑

(DVD) AMC, Genius Products #55269
Ad blocker interference detected!
Wikia is a free-to-use site that makes money from advertising. We have a modified experience for viewers using ad blockers

Wikia is not accessible if you've made further modifications. Remove the custom ad blocker rule(s) and the page will load as expected.