01/06/1959 - "San Fernando in Alaska"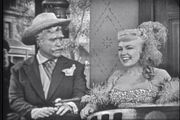 GS: Edie Adams - 'Ruby'
San Fernando Red goes to the new state of Alaska to cheat people out of gold. Opening: Was appearing in Las Vegas Reviara Follies, Chase girls, Fishing, Penquins
Cast: Raymond Hatton - Buck; Douglas Fowley - Pete
Note: Edie Adams does imatations.
America's Clown Prince (box set #63593), MM&V #63583
America's Clown Prince (box set yellow box), Timeless #64843
The Vault Collection No. 2, Red Skelton.TV
Ad blocker interference detected!
Wikia is a free-to-use site that makes money from advertising. We have a modified experience for viewers using ad blockers

Wikia is not accessible if you've made further modifications. Remove the custom ad blocker rule(s) and the page will load as expected.