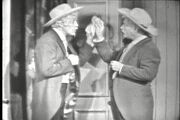 03/10/1959 - "San Fernando Loses the Dixie Queen"
Opening: Hair cut, Ear on the floor, Las Vegas, Texan
Mime: Little Old man helps an orphanage. "This Old Man" marching song.
San Fernando gambles his riverboat away but becomes a cabin boy to protect his daughter. Romero takes San Fernando's place to avoid the law.
Cast:
Cesar Romero - Clayton Harrison
Terry Moore - Mary Lou
Note: Skelton and Romero perform the mirror gag.
Ad blocker interference detected!
Wikia is a free-to-use site that makes money from advertising. We have a modified experience for viewers using ad blockers

Wikia is not accessible if you've made further modifications. Remove the custom ad blocker rule(s) and the page will load as expected.