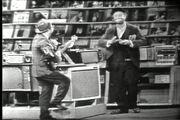 06/02/1959 - "Freddie the Singer"
Opening: Singers, Gauguin the singing parrot
Cast:
Frank McHugh - Muggsy
Gil Stuart - Jeeves
Carol Sykes - Teenager
Barbara Clark - Teenager
Rita D'Amico - Teenager
---
Elvis in the army.
Dancer and Stage hand on stage.
Promoting David Rose album "The Song is You".
Freddie sings "10 Pretty Girls"
---
Freddie becomes a singing star after making a recording in a music store. Muggsy lives the good life but Freddie still need to appear a tramp.
Ad blocker interference detected!
Wikia is a free-to-use site that makes money from advertising. We have a modified experience for viewers using ad blockers

Wikia is not accessible if you've made further modifications. Remove the custom ad blocker rule(s) and the page will load as expected.