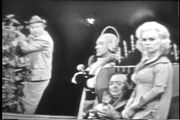 05/24/1960 - "Clem and the Beanstalk"
Opening: Politian speeches, Fairy Tales.
Mime: Ugly Duckling
Cast:
Mamie Van Doren - Leona (Sings: "It's the Wrong Song")
Peter Lorre - King Zurim
Jack Albertson - Throckmorton
Kathryn Card - Maw Kadiddlehopper
Joe Gaudio -
Gerald Harrington -
Rod Sterling - Himself (Cameo)
---
Clem get magic beans that make a beanstalk to Mars. He falls for the daughter of the King. They try to stop the King from destroying the Earth.
---
NBC peacock.
---
Video of the rehearsal has been release where the cow relieves herself. 
Video release
Edit
---
---
Ep. 28 > Season 09 < Ep. 30
Ad blocker interference detected!
Wikia is a free-to-use site that makes money from advertising. We have a modified experience for viewers using ad blockers

Wikia is not accessible if you've made further modifications. Remove the custom ad blocker rule(s) and the page will load as expected.