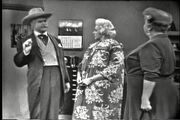 01/03/1961 - "San Fernando Cal"
Opening: Pills, Belly button, Henny Youngman
Mime: Taking a pill.
San Fernando makes a phony weight reducing formula that gangster want.
Cast:
Mary Beth Hughes - Ruby
Barbara Morrison -
Jack Albertson -
Milton Frome -
Close: Indian sign Johnson Wax and Pet Milk.
TV ep. 10.10 > < TV ep. 10.12 Danny Thomas
Video release
---
---
Ad blocker interference detected!
Wikia is a free-to-use site that makes money from advertising. We have a modified experience for viewers using ad blockers

Wikia is not accessible if you've made further modifications. Remove the custom ad blocker rule(s) and the page will load as expected.