03/14/1961
[TV] "Freddie and the Baby"
Edit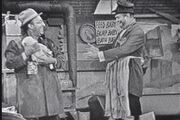 GS: Ed Wynn

Dance: Pantomime

Freddie finds a baby in the park.

Cast: Ray Kellogg - Cop, Benny Rubin - Vender, ?ena Engstrom - Young Woman, Collenn Collins - Baby Cry, Monty Margetts - Nurse, Ann O'Neal - Stern Woman

Note: All mime episode except for the closing thank you speech.
TV ep. 10.16 Ed as Red > < TV ep. 10.18 Deadeye & The Alamo
↑

(DVD) America's Clown Prince (box set #63593), MM&V #63583

↑

(DVD) America's Clown Prince (box set #63393), MM&V #63383
Ad blocker interference detected!
Wikia is a free-to-use site that makes money from advertising. We have a modified experience for viewers using ad blockers

Wikia is not accessible if you've made further modifications. Remove the custom ad blocker rule(s) and the page will load as expected.