03/27/1961 - [TV ep. 10.18] "Deadeye & The Alamo"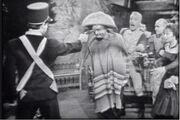 GS: Cesar Romeo - Santa Ana, Adele Mara - Eleine
Opening: Cue cards mixed-up, Sweepstakes ticket, Jack Benny, Talk about being ill, operation
Mime: Little Old Man and a Little Boy at a test strength game.
Deadeye enters Santa Ana's camp to save the Alamo.
TV ep. 10.17 Freddie and the Baby > < TV ep. 10.19
America's Clown Prince (box set #63593), MM&V #63573
American's Clown Prince (box set yellow 3 disc), Timeless #64823
The Vault Collection No. 4, Red Skelton.TV
Ad blocker interference detected!
Wikia is a free-to-use site that makes money from advertising. We have a modified experience for viewers using ad blockers

Wikia is not accessible if you've made further modifications. Remove the custom ad blocker rule(s) and the page will load as expected.