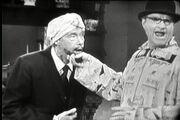 03/06/1962 - "Appleby's Bearded Boarder"
Opening: Diet, Florida pool Romeo
Mime: High diver
Cast:
John Carradine - Abdul
Marie Windsor - Clara
---
Appleby rents out a spare room to make more money. The new boarder takes over the house.
Video release
Edit
---
DVD #64264 (monologue has brightness problems)
---
Ep. 22 > Season 11 < Ep. 24
Ad blocker interference detected!
Wikia is a free-to-use site that makes money from advertising. We have a modified experience for viewers using ad blockers

Wikia is not accessible if you've made further modifications. Remove the custom ad blocker rule(s) and the page will load as expected.