02/19/1963 - "Advice to the Loveworn"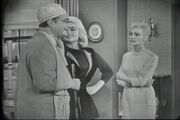 GS: Jayne Mansfield - Dr. Joyce Sisters, Virginia Grey - Clara, the Lettermen
Pre-opening: Writing a letter to D.A. Believe wife a murders
Opening: Palm Springs Rodeo Parade with Valentina.
Mime: Majorette
Dance: Wedding theme
Mansfield give advice on TV but it goes wrong to Appleby. She tries to correct it.
Music: "The Girl Next Door", "You'll Never Walk Alone", "Story of Love"
Silent Spot: The French Painter [1]
Jane Mansfield (box set), MM&V #35433
↑

DVD America's Clown Prince, MM&V #63573
Ad blocker interference detected!
Wikia is a free-to-use site that makes money from advertising. We have a modified experience for viewers using ad blockers

Wikia is not accessible if you've made further modifications. Remove the custom ad blocker rule(s) and the page will load as expected.