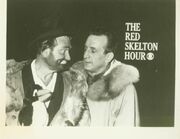 Plot Synopsis
by Hal Erickson

Even George C. Scott couldn't turn down the opportunity to appear opposite Red Skelton in the 1960s. In the main comedy sketch, Scott is cast as a South Pole explorer, who hires Freddie the Freeloader (Red) as his reluctant assistant. Musical guests The Honeycombs sing "Have I the Right". And in the Silent Spot, village smithy Red takes up his usual post under the spreading chestnut tree. This episode aired March 23, 1965.
Ad blocker interference detected!
Wikia is a free-to-use site that makes money from advertising. We have a modified experience for viewers using ad blockers

Wikia is not accessible if you've made further modifications. Remove the custom ad blocker rule(s) and the page will load as expected.