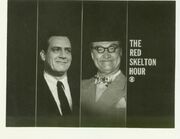 Plot Synopsis
by Hal Erickson

Raymond Burr pays a return visit to The Red Skelton Hour in this episode from March 30, 1965. In the main comedy sketch, George Appleby (Red) is so henpecked by wife Clara (Shirley Mitchell) that he sells his soul to Satan (Burr) to regain his bachelorhood. In the musical segment, The Kinks-yes, The Kinks-sing "Got Love If You Want It". In the Silent Spot, Red mimes the role of a self-indulgent millionaire (hardly a stretch, considering Skelton's real-life financial situation).
Ad blocker interference detected!
Wikia is a free-to-use site that makes money from advertising. We have a modified experience for viewers using ad blockers

Wikia is not accessible if you've made further modifications. Remove the custom ad blocker rule(s) and the page will load as expected.