TV ep. 15.18 A Concert in Pantomime >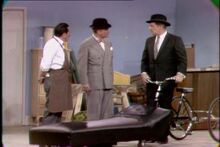 01/25/1966
Opening Jokes: Army. Camp Roberts. Texas. Valentina Palm Springs Rodeo Queen.
Mime: Prospector and Rattlesnake
Dance: Continental
Cast: Shirley Mitchell - Clara. Lou Krugman; Ida Mae McKenzie; Jimmy Cross; Buddy Lewis
George and Clara go to a psychiatrist.
Silent Spot: Composer in a remote cabin.
Note: Harry Kelly, cue card boy, drafted.
Plot Synopsis
by Hal Erickson
Vincent Price joins Red Skelton in a "George Appleby" comedy sketch. At the insistence of Clara Appleby (Shirley Mitchell), door-to-door psychiatrist Sigmund Fraud (Vincent) treats Clara's husband George (Red), who is convinced that he's turned into a butterfly! Musical guestsThe Supremes (with Diana Ross) sing "Rockabye Your Baby" and "Mother Dear.". In the Silent Spot, a composer (Red) vainly seeks solitude so he can write his next masterpiece. This episode aired January 25, 1966.
Ad blocker interference detected!
Wikia is a free-to-use site that makes money from advertising. We have a modified experience for viewers using ad blockers

Wikia is not accessible if you've made further modifications. Remove the custom ad blocker rule(s) and the page will load as expected.