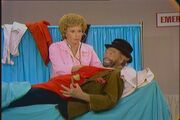 Plot Synopsis
by Hal Erickson

Never let it be said that Red Skelton ever came up short in the guest-star department. In this episode from November 4, 1969, Audrey Meadows plays a waspish hospital admissions nurse in a "Freddie the Freeloader" comedy sketch, Edgar Bergen and his dummy Charlie McCarthy team with Red to recreate the famous radio feud between Charlie and W.C. Fields, and Three Dog Night sings "Easy to be Heard". Also contributing to the festivities are actress Beverly Powers as a sexy nurse, and the Jimmy Joyce Singers and the Tom Hansen Dancers, who perform the ensemble number "I Hear Music".
Ad blocker interference detected!
Wikia is a free-to-use site that makes money from advertising. We have a modified experience for viewers using ad blockers

Wikia is not accessible if you've made further modifications. Remove the custom ad blocker rule(s) and the page will load as expected.