02/10/1970 - [TV ep. 19.20] "When East Meets West, You've Sure Got a Skinny County" Deadeye GS: Carol Lawrence

Opening: Two drunks (Dr. Humperdoo), Got back from Washington D.C., LA Mayor, Seagulls, Fat Man asking a Girl for a Date, Bull comes out
Mime: Waiting of a date to get dressed [1]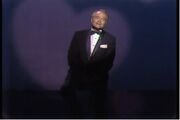 Music: "Valentine's Day Song"
[2]
Silent Spot: "Trying to Lose Weight" [3]
Cast: Brad Logan - Big Bruiser
Plot Synopsis
by Hal Erickson

In a "Sheriff Deadeye" sketch, a saloon gal (guest star Carol Lawrence) strikes terror in the heart of Deadeye (Red Skelton) by aligning herself with his hated rival. Carol sings "Big Spender", then joins the Tom Hansen Dancers for "Raindrops Keep Fallin' On My Head". In other musical highlights, the Dancers and the Jimmy Joyce Singers perform "My Love", while Red sings his own composition, "Tell Her You Love Her", as a valentine to his wife Georgia; ironically, Mr. and Mrs. Skelton would split up a year or so after this episode aired on February 10, 1970. And in the Silent Spot, Red plays a hapless reducing-salon customer.
Note: Show #0921, VTR: 2/2-3-4 [4]. Valentines Day Show
TV ep. 19.19 Airline Hijack > < TV ep. 19.21 People Who Like People Are Cannibals
Ad blocker interference detected!
Wikia is a free-to-use site that makes money from advertising. We have a modified experience for viewers using ad blockers

Wikia is not accessible if you've made further modifications. Remove the custom ad blocker rule(s) and the page will load as expected.