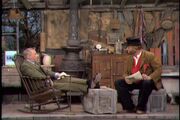 03/31/1970 - [TV ep. 19.27] "Be It Ever So Crumbled There's No Place Like Home" Freddie GS:
George Gobel
Freddie gets a roommate that is getting away from his clean freak wife [1]
Silent Spot: "The Picnic" [1]
Plot Synopsis
by Hal Erickson

George Gobel appears with Red Skelton in a "Freddie the Freeloader" comedy sketch. Advertising for a roommate to share his city-dump shack, Freddie (Red) ends up with a fugitive henpecked husband (George). The rock group Original Caste sings "Mr. Monday" and "One Tin Soldier", the Tom Hansen Dancers perform "76 Trombones", and the Dancers and the Jimmy Joyce Singers team up for "I'm Your Puppet". In the Silent Spot, a pracitical joker (Red) gets his comeuppance at a picnic. This episode aired March 31, 1970.
TV ep. 19.26 < > TV ep. 19.28 Stone Walls Do Not a Prison Make -- So They Added Iron Bars
Ad blocker interference detected!
Wikia is a free-to-use site that makes money from advertising. We have a modified experience for viewers using ad blockers

Wikia is not accessible if you've made further modifications. Remove the custom ad blocker rule(s) and the page will load as expected.