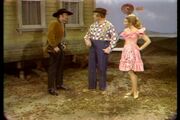 01/25/1971 - [TV ep. 20.17] "The Auction"
GS: James Drury
Opening: Eye problem, Seagulls
Mime: "Sewing a button"
Clem must sell the farm.

Silent Spot: "The Wife Who Sees Her Husband in Everybody"

Cast: Chanin Hale
In Color (box set 3 DVD set), Timeless #62034
Best of the Red Skelton Show Episode 3, Voxcorp #22522-7 (Clem, Silent Spot)
Ad blocker interference detected!
Wikia is a free-to-use site that makes money from advertising. We have a modified experience for viewers using ad blockers

Wikia is not accessible if you've made further modifications. Remove the custom ad blocker rule(s) and the page will load as expected.