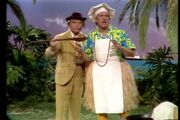 02/08/1971 - [TV ep. 20.19] "The Castaways"
GS: Vincent Price, Peggy Rea
Opening: Western Days, Palm Springs, Cold weather, Seagulls
Mime: Weight lifter
Cookbook writer on a island to make a recipe. Clem becomes ship wrecked on the island.
Silent Spot: "Nag, Nag, Nag"
In Color (box set 3 DVD set), Timeless #62044
Ad blocker interference detected!
Wikia is a free-to-use site that makes money from advertising. We have a modified experience for viewers using ad blockers

Wikia is not accessible if you've made further modifications. Remove the custom ad blocker rule(s) and the page will load as expected.