The Show-Off



Studio

MGM

Release date

1946

Director

Harry Beaumont

Cast

Marilyn Maxwell
Marjorie Main
Leon Ames

Writer

George Wells
George Kelly (play)

Producer

Albert Lewis
Red Skelton is a loud mouth that brags about business and inventions. Marilyn Maxwell falls in love with him but her family does not. Red manages to get on the family's nerves by talking to much and taking control in their life. He get into finance problems. Marilyn still loves him. His bragging almost destroyed an invention deal but it ends up working out for the good.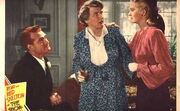 Ad blocker interference detected!
Wikia is a free-to-use site that makes money from advertising. We have a modified experience for viewers using ad blockers

Wikia is not accessible if you've made further modifications. Remove the custom ad blocker rule(s) and the page will load as expected.