Valentina Skelton

Red Skelton's daughter

Born

1947/05/05

1947/05/05 - Born: Valentina Marie (Named Glory Gay
[1]
) Dr. Irving Leroy Ress M.D.
School: St. Martin of Tours (private Catholic School, West Los Angeles) [2]. Emerson Junior High School, West Los Angeles

1959/12 - Hosted a TV showing of "The Wizard of Oz" with Red Skelton.

1963/07 - "Meet Valentina Skelton, California Teen-Ager" [3]
1965 - Graduates from Palm Spring High School.
1966 - College of the Desert (Palm Spring).
Art Coleman, college friend. [4]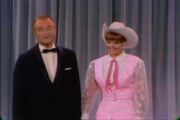 1966/01/29 - Queen of the Palm Spring Rodeo.
[5]

1967/11 - "The Night Dad & I Found Each Other!" [6]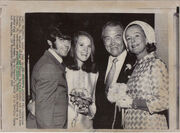 1969/07/14 - Married restaurant executive Carlos Jose Alonso, age 29, from Madrid, Spain. Alonso family from Seville Spain and Argentine. [7] 1970/08/23 - Born: Sabrina Alonso
1972/06 - Divorce. [8]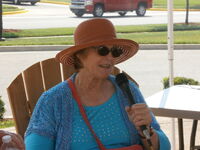 Ad blocker interference detected!
Wikia is a free-to-use site that makes money from advertising. We have a modified experience for viewers using ad blockers

Wikia is not accessible if you've made further modifications. Remove the custom ad blocker rule(s) and the page will load as expected.